We empower doctors to make better personal finance decisions and attain desired prosperity and wellness.
Dr. Yuval Bar-Or, Ph.D., Biography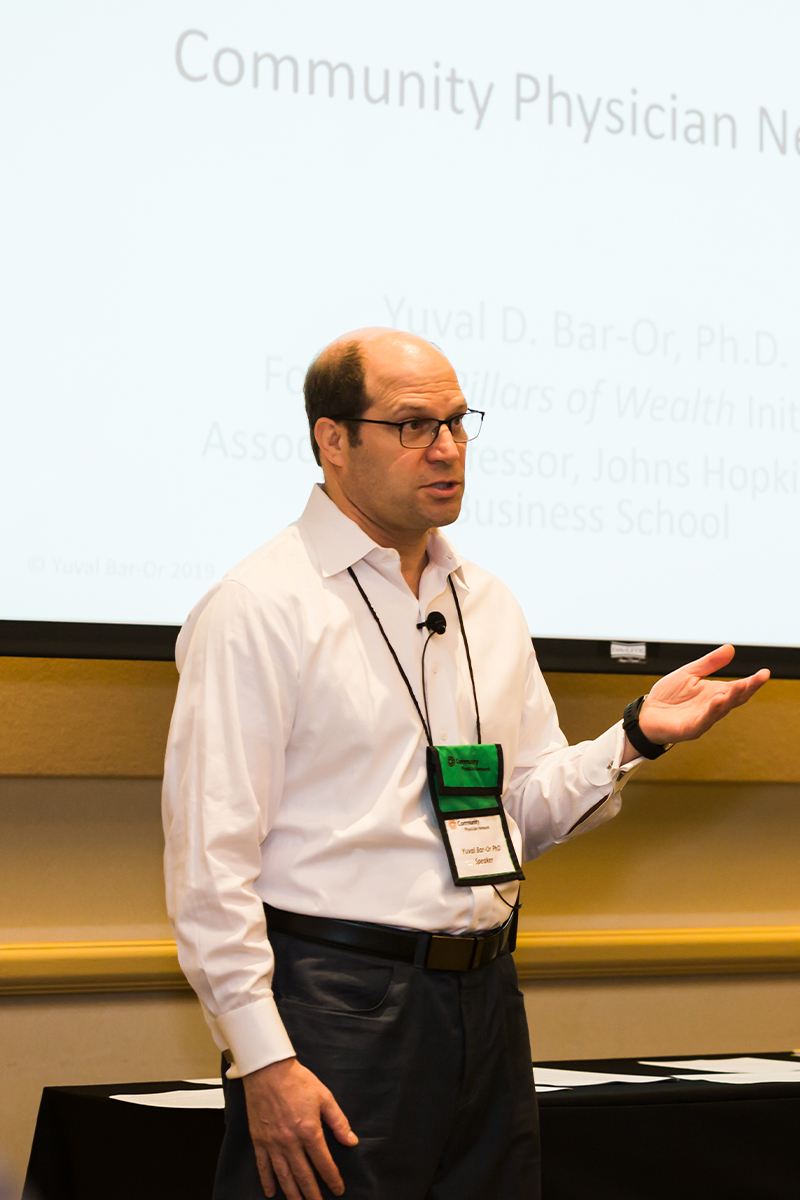 Yuval is an award-winning full professor at the Johns Hopkins Carey Business School where he primarily teaches investments, wealth management, and corporate finance courses. He is the author of seven books, including the Pillars of Wealth personal finance series for medical professionals and Leveraging People for a Corporate Turnaround. Yuval published the first literature review of peer-reviewed personal finance journal articles for physicians (Systematic review of personal finance training for physicians and a proposed curriculum)
Prior to joining the JHU faculty Yuval held senior strategy and operations roles with some of the world's leading financial risk management firms. His roles included managerial responsibilities in New York, San Francisco, Toronto, London, Singapore, and Sydney, Australia. His risk management expertise assisted banks in managing over a trillion dollars in assets. He currently serves on the investment committee of a venture capital fund and advises several startups, including fintech companies.
Yuval has been a contributor on Forbes.com and has been quoted in various media, including The Wall Street Journal, Bloomberg BusinessWeek, Reuters, USA Today, The Baltimore Sun, Hopkins Medicine Magazine, Consumers Digest, US News & World Report, The Los Angeles Times, and The Baltimore Sun. He holds Ph.D. and M.A. degrees in finance from the Wharton School of the University of Pennsylvania, as well as an engineering degree (B.Eng.) and two economics degrees (B.A. summa cum laude, M.A.) from Canada's McMaster University.
As a college student Yuval was a member of the varsity wrestling and rugby teams, and prior to that a provincially ranked gymnast. He enjoys ballroom dancing and kayaking.
Founder's Message
My father was a renowned physician, widely recognized as the world's leader in his field of pediatric exercise physiology. With 200 peer-reviewed publications, he was a prolific researcher and popular lecturer who lived and breathed academic medicine. He was an old-fashioned doctor who cared deeply about doing good and was universally respected and loved by his family, students, staff and patients. He was also a very trusting and honest person, making him an ideal target for brokers, agents, and advisors pitching financial products and services. I estimate that his nest egg was reduced by about 25% due to (avoidable) losses and ill-advised (unnecessary) investments.
After his untimely passing at the age of 68 I watched my mother struggle. Like many women of her generation she'd left financial matters to her husband. Despite having an unusually strong support group, she was losing sleep over financial decisions. Observing her struggles made me realize just how vulnerable physician families are. This led to a career change as I extricated myself from the world of financial risk management (effectively, I was a "physician for corporations") and re-dedicated myself to improving financial literacy among medical professionals.
I began by writing books, then moved on to delivering workshops, participating in blogs, functioning as a consumer advocate and making media appearances. I even obtained the same licenses required of financial advisors so I could truly understand the business of retail financial services and the people providing those services (I have since allowed those licenses to expire). My personal voyage culminated in the Pillars of Wealth initiative, which in turn has one objective — helping you and your family make constructive personal finance decisions.
The initiative is based on a simple premise: doctors (and many other highly educated professionals) don't know enough about finance, which makes them vulnerable. For many, financial decision making is neglected due to lack of time, lack of interest, and in some cases a sense of intimidation. In response many seek to outsource all financial decision making to a reliable financial advisor. In a perfect world this would be an ideal solution. In the real world some financial advisors are inept, some are conflicted, and some are outright dishonest. Are you able to distinguish the good from the bad? Are you sure your best friend, in-law, or work colleagues can help you do this reliably? The honest answer in most cases is "no."
The safest solution for you is to gain more knowledge. This is where the Pillars of Wealth initiative comes in. Our content is grounded in science. We don't sell financial products. Thus, when we offer education, you know without a shadow of a doubt that we mean it, because that's all we do. Our only agenda is to educate you.
If you have any questions about financial literacy, please contact me.
Dr. Yuval D. Bar-Or, Ph.D.
Founder of the Pillars of Wealth Initiative, and
Full Professor of Practice, Johns Hopkins Carey Business School
Baltimore, MD