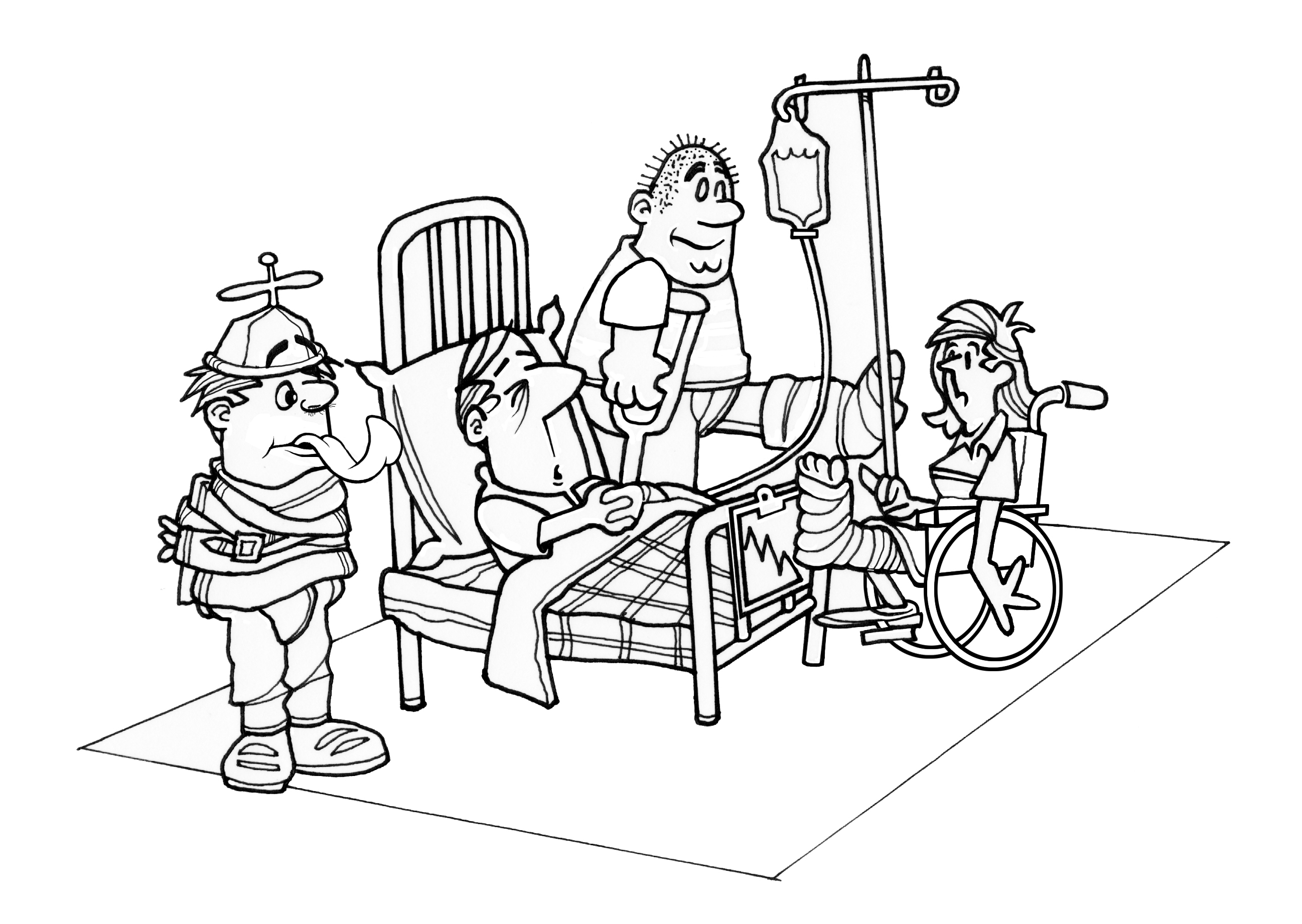 Illness or injury can cause total or partial disability. To protect against the resulting loss of income, you can purchase disability insurance (DI). The complexity of disability policies makes them confusing. Many agents begin their careers selling life insurance, and some of them don't learn the full intricacies of DI. Find an agent who is fully versed in disability issues.
There are two types of disability insurance: short-term and long-term. Short-term DI offers a limited benefit period of 3 to 6 months, has very short elimination periods of less than two weeks, and covers up to 80% of your gross monthly income. It is usually provided by your employer. Long-term disability may provide benefits over 2, 5, 10, 15, 20 years, or until retirement age (65 or 67), has elimination periods ranging from 30 days to two years, and covers up to 60% of gross monthly income. It may be offered by an employer or purchased privately.
Why do insurers limit long-term policy benefits to 60% of income? The answer is simple. They want disabled clients to have an incentive to return to work.
Many employer-sponsored (group) policies provide limited coverage and terminate when employment ends. Consider obtaining a private portable long-term DI policy that remains in force when you change jobs.
Short-term disability insurance may be especially useful if you don't have a second earner in your household or lack a rainy-day fund. But the more existential threat to your household's financial well-being likely comes from a long-term loss of income. Accordingly, our subsequent discussion focuses on private long-term disability policies.
DI is particularly important for doctors (and other highly educated professionals) because they spend a relatively large amount of time and money (not to mention blood, sweat, and tears) on becoming medical professionals. Many doctors also end up with very significant amounts of debt that can only be paid back with reasonably high earnings. Suffering a debilitating injury or disease that precludes you from those earnings can be financially and emotionally devastating. DI helps to protect the very significant investment you've already made in yourself and your career.
As your income increases, you typically don't cancel one DI policy and replace it with another. Rather, you can: (1) purchase a rider, in advance, on your original policy that allows you to increase coverage (known as a guaranteed purchase option or future purchase option), or (2) add a new policy to cover the increase in coverage. The new policy layers on top of the existing one. Over a career a doctor may accrue several policy layers, each incrementally increasing her coverage.
Ideally, once approved by an insurer, you shouldn't need to undergo medical testing again for additional layers from that insurer. You should only need to prove that your income has increased. Look for language in the policy or riders that guarantees automatic benefit increase without medical testing.
Choosing a Level premium option means your premium remains constant throughout the policy's life. In contrast, the Increasing Rate option gives you a policy whose premiums are initially relatively low but increase each year.
One strategy for young doctors with limited means is to begin with a more affordable increasing premium policy and convert it to a level premium policy as soon as it becomes affordable to do so. The downside is that the level premium you switch to will be higher than the level premium you could have obtained had you purchased the level policy to begin with. This is because insurance premiums are age-based, and at the time of conversion you will usually be one or more years older than when you purchased the original policy.
I recommend purchasing a good policy at the latest a year before finishing up residency or fellowship—whichever is the final stage before going on the job market.
Advantages to doing this early are that you can lock-in a lower premium when younger. In addition, seeking coverage early generally means a lower probability of exclusions, which in turn can mean more favorable (broader) coverage. Furthermore, insurers may offer discounted deals for residents, and those discounts can add up to a lot of money over a long career.
DI premiums depend on many factors, including gender, age, occupation, your state of health, and the fine details of what is and isn't covered. Statistically, women tend to go on disability more than men. Hence, their DI premiums are, on average, higher than those for men of comparable age, health and occupation. Furthermore, pregnant women may find it difficult to obtain coverage, suggesting that it is best to purchase insurance prior to starting a family.
Other advantageous policy characteristics include (1) non-cancellable and guaranteed renewable (defined earlier in this chapter under the Key Features & Terminology section) and (2) own occupation. With a standard disability policy, your benefits usually end when you're healthy enough to rejoin the work force. With an own occupation policy, you may be eligible for continuing disability benefits if you cannot perform your previously specified occupation, and you may still be able to work in some other capacity. This is known in the industry as "double dipping"—you earn money through a job and receive disability benefit payments at the same time. Thus, a more narrowly defined "own occupation" is generally advantageous for you, although it may require a higher premium. Take a very close look at the own occupation definition in your policy. Some are more favorable than others.
In many policies, coverage ends at retirement age. You can sometimes get short term policies above this age, but these will be costly because people over age 60 who qualify for disability tend to remain disabled. From the insurer's perspective, older people are not good candidates to insure, so their premiums are very high.
Think carefully when given the option to obtain very long-term coverage, as such policies will be more expensive than those offering limited-time coverage. For example, assuming you're 35 years old, you may have the option to obtain a 20-year policy or one that lasts until age 67 (32 years of coverage). Twenty years into your career, and conditional on making some solid financial choices, you could be debt free and have a decent nest-egg saved up, which could obviate the need for some or all future DI coverage. As a resident with negative net worth it may be impossible to imagine such a stable financial future, and that may lead you to opt for the security of coverage until retirement. You can still opt to cancel your DI at any time in future if you no longer need it, but it's worth thinking through the implication of paying higher premiums for several decades.
Some insurers provide discounts when multiple employees of the same company, especially of different ages, apply for insurance simultaneously. This is because signing up multiple employees helps diversify the insurers' risks and they are willing to pass their savings on to clients.
Tax Considerations
The tax status of DI benefits depends on several factors, including who paid the premiums (you or an employer) and whether the premiums were paid with pre-tax or after-tax dollars. If you pay the premiums yourself with after-tax dollars, any benefits you receive should be income-tax free. Generally, if your premiums are paid by your employer or deducted from your earnings pre-tax, any subsequent DI benefits you receive are taxable. If you and the employer each pay part of your premiums, the portion you purchased may be tax-free while the portion paid for by your employer may be taxable.
As noted earlier, your long-term benefits will likely be limited to 60% of your gross income. But if these benefits are tax-free, your actual take-home income will be closer to what it was prior to the disability.
Who Determines Whether You Are Disabled?
When applying for disability benefits you need to establish that you have, in fact, become disabled to an extent that affects your ability to earn income. Your benefits claim must be accompanied by documentation from a licensed medical professional, such as a doctor or psychologist. The professional must provide a report documenting any limitations on your ability to perform relevant work functions. Medical records must be provided to support your claim. In other words, you can't just submit a brief letter from a physician stating that "John Q is disabled." Rather, the submission should list specific and relevant tasks you are no longer able to perform or can only perform at reduced productivity. The cause of the disability and date of disability should also be documented.
Insurers have guidelines regarding what type of impairments qualify as total or partial disabilities under their policies. The Social Security Administration or a private insurer will use the aforementioned doctor's report to determine whether and how much impairment is present, whether the claimant is eligible for benefits, and how much those benefits will be.
Disability Insurance Riders
One of the reasons that DI insurance can be so confusing to navigate is that there are many optional features (riders) which can be added to a policy. We've already discussed some of the more desirable features, including: non-cancellable and guaranteed renewable, own occupation, and future purchase option. Another useful rider is the residual disability benefit, which provides partial benefit payments in the event you are only partially disabled. Under partial disability you can still work but are limited to fewer work hours and or your productivity decreases, because you can't complete as many procedures in a day or week as you used to. The benefits aren't the full ones you'd receive for total disability, but they help to cover some lost income.
Most insurers provide certain riders by default or make them available for free. Some of these are described below.
Automatic increase benefit rider: Automatically increases your benefits as your base pay increases, but your premiums increase. You should be able to decline this.
Presumptive total disability rider: Benefit payments begin immediately for a specific set of disabilities including total loss of hearing, sight, speech, or certain limbs. This feature overrides the elimination period.
Waiver of premium rider: If you're disabled your disability insurance premiums are waived until you can return to work.
Death/Survivor benefit rider: Your beneficiary receives a benefit if you die while disabled.
Family care benefit rider: Provides benefit if you can't work because you must care for a family member.
Good health benefit rider: Your elimination period shortens for each consecutive year you go without a claim.
Agents may pitch other riders to you, for additional cost, including those listed below. These tend to be more expensive than they're worth:
Cost of living adjustment (COLA) rider: An inflation measure such as the Consumer Price Index (CPI) is used to adjust your benefit amounts upward over time. Generally, those increases only begin once you're on a claim, so you could lose a lot of purchasing power before benefits begin. The COLA rider is typically more expensive than it's worth and you can increase coverage over time through the previously discussed future purchase option rider
Catastrophic disability benefit rider: Pays an increased benefit in the event of a catastrophic disability which leaves you unable to perform two or more daily living activities
Daily living activities are defined as: eating, bathing, dressing, toileting, transferring, and maintaining continence.
If you don't take the COLA or use the automatic increase riders, your benefit and cost will gradually decline relative to your rising income. As your net worth increases this can be a handy gradual mechanism to ween yourself off reliance on disability insurance. When your nest egg reaches critical mass (or Golden Goose Principal) you can cancel your disability coverage completely.
As you consider these riders remind yourself that a basic policy addressing fundamental risk exposures may be all you need, suggesting that most of these riders are likely unnecessary.
Two other DI features you may wish to consider relate to student loans and retirement plan coverage. A third may also be relevant if you own a private practice.
Student Loans
Some disability insurers provide coverage on student loans held by medical, dental, law, veterinary, or pharmacy students. There's usually a ceiling on the amount covered under these products, often around $2,000 per month. In the event of a qualifying disability, the insurer will pay up to the monthly limit directly to the lender.
Depending on the insurance company, student loan coverage may be a standalone policy or one that layers on top of a basic disability policy.
Some student loans are dischargeable in the event of a serious disability, which could obviate the need for this coverage.
Retirement Plan Coverage
When a person becomes totally disabled, loss of monthly income is not the only negative financial outcome. The totally disabled person is no longer contributing to 401(k) or 403(b) accounts, and may no longer be eligible to receive matching contributions from an employer. Retirement plan coverage insurance can provide up to several thousand dollars (a maximum of around $4,000) per month to make up for lost contributions to 401(k), 403(b), and potentially other retirement accounts. In the event of disability, the insurer makes contributions on your behalf into a special trust. Funds in the trust may then be invested. When you reach retirement age the funds accumulated in the trust become available to you.
Private Practice Coverage
If you own a private practice, there are other policies you could consider, including: business overhead expense, business loan coverage, and disability buy-out. These policies are discussed in the second Pillars of Wealth book: Business Essentials for Medical Practices.